Hardware and Software Specifications, Examples, Links, and other info. are valid at the publishing time. In case it become invalid use the Internet Search.
1st Published, May 2006
Over 9,000,000 Hits Site Wide in 2007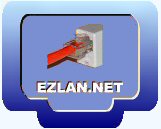 Setting Windows Zero Configuration (WZC).
Most Wireless Clients Cards (Laptop/computer) can be configured by a Manufacturer Wireless Utility that comes with the card, or Windows Zero Configuration (WZC)

It is important that the Wireless should be managed only with one application.
You can use the Original Utility, or WZC. When one is used the other has to be Off (Not loaded into memory and not maintained active Windows service).

Disabling the Manufacturer Wireless Utility should be explained in the Wireless Cards document.
The following describes how to Check, and switch WZC On. The same principle applies in case you need to switch it Off, choose the Off/Stop options while you are at the menus (the same method can be used to configure other services too).
1. Click Start and Run
2. Type into the Run box "services.msc" (without the quotation).
3. Scroll down and look for the service Wireless Zero Configuration

Double Click on the Service, Screen Shot of the services
4. Make sure that it is Started and that the startup type is set to automatic.
If the Service did not Started, or and is Not set to Automatic.
To Start the Service click on the Start button.
To set the service to automatic, click on the down arrow and change it to Automatic.
---
No Windows Zero Configuration Service at all.
Use Windows regedit, drill down.

HKEY_LOCAL_MACHINE\SYSTEM\CurrentControlSet\Services\WZCSVC

Add a DWORD entry named "Start" and value "2".

Note, if you are Not familiar with regedit do not try to use it without knowledgeable support.
---
This page explains how to use WZC, Windows XP Wireless Auto Configuration
---

Copyright © 2001-2008 EZLAN.NET. All Rights Reserved.
Home