Hardware and Software Specifications, Examples, Links, and other info. are valid at the publishing time. In case it become invalid use the Internet Search.
1st Published, Oct. 2006
Over 6,500,000 Hits Site Wide in 2006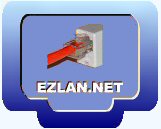 Printer Server - Printing through the Network
It is very productive to have a printer that can be connected directly to the Network (as oppose to a single computer), and can be used by any Networked computer regardless of the status of the other computers.
Best Solution, buy a Network ready printer. These printers have an additional Ethernet interface and they can be connected to any available switch on the Network. The special drivers come on a CD and has to be installed on all Network computers (During installation choose a Static IP so that the printer address would not change unexpectedly).
Alas you have already a printer and it is Not Network ready.
Most of the manufacturers of consumer Network devices offer Printer Servers ad-ons
Unfortunately these Ad-Ons present a mixed bag of results. They come in USB, or and Parallel port flavors. The devices cost is around $50, and it might, or might not allow network printing with your printer (better chance with the USB version).

If the device does print, they usually would support only straight standard printing. Special printing modes as well as bidirectional action or any additional capacity are usually not supported well, or would not work at all.

Some ad-ons printer servers can provide Wireless connection. However they just save the cable, the plus or minus of the Wireless are the same as the wired one
What to do?

If you have printer that is very dear to your heart and you do not want to let go, buy a Brand name Printer Server from a vendor with liberal returned policy. I.e. you can return if it does not work, and do not loose too much on back shipping and or restocking fees.
Compute the expenses correctly, you might find out that it is better to buy a new Network ready printer.
---
All In One Printer/Scanner/Fax/Copy Devices
If you buy a new one, buy a Network ready All in One.
All in One unit that is Network Ready can be connected with a network cable to any port on the Network.
Most of them can be made Wireless too, by fitting it with a Driverless Wireless Client device that is used for game boxes.
The Big advantage of the Network ready AIO
All Networked computers can use all the functions of the AIO (Printing, Copying, Scanning, Faxing, etc.)
---
If the unit is a regular AIO unit (I.e. Not Network ready), you can use all the functions only when connected to one specific computer, and only by this computer.
If you share AIO unit that connected to the single computer, other Network computers would be able to share only the printer capacity of the AIO (I.e. No Scanning, Faxing Etc.)
You can fit an AIO with a 3rd party printer server card, as you do with a regular printer, only the printer part would be shared trough the Network and you would lose the capacities all together. I.e. no Scanning etc. from any computer.
There are 3rd party devices Software/Hardware that can turn a regular AIO unit to be Network capable with all of its features, however these devices are more expensive (about $150) than buying a New inexpensive Network ready AIO unit.

As an example, Staples, and others, offer (2006-2007) Network Ready Brothers Brand All in Ones for ($100-$150).
---

Copyright © 2001-2007 EZLAN.NET. All Rights Reserved.
Home