Hardware and Software Specifications, Examples, Links, and other info. are valid at the publishing time. In case it become invalid use the Internet Search.
1st Published, Dec. 2006
Over 9,000,000 Hits Site Wide in 2007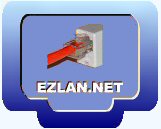 Debug Basic Network - How to check basic network health.
The following steps can help in evaluating the basic health of your Networked computer.
Note. If the cause of trouble relates to a computer that was trashed by Internet Junk it might become None functional after the cleanup and the repair, or might not be repairable at all.
If you need help in this matter see at the end of the page.

Step One. Check the Network parameters in the Computer's Device Manager. Make sure that the Network Card drivers are installed correctly; i.e. there is No IRQ conflict, and No Ghost installation.
http://www.ezlan.net/faq.html#ghost
If the Card is install correctly it should look like this.
http://www.ezlan.net/example/dm_ok.jpg
Step Two. Log to Windows Control Panel/Network Connection, and make sure that there is Local Network Connection for the device.
Example, http://www.ezlan.net/example/nets.jpg
If there is No Icon for your Local Network Connection and the Network Card (NIC) is installed correctly, try to reboot the computer. Windows would install the Network Connection.
Right click on the Local Network Connection icon, and choose properties.
It should look like this. http://www.ezlan.net/example/tcp.jpg
If every thing is good thus far, look at the TCP/IP properties of the Network Local Connection.
http://www.ezlan.net/example/tcp-ip.jpg
Notice that the TCP/IP is set to Obtain an IP Address and DNS Automatically, unless you were instructed at the first time when you set the Wireless to use a Static IP, you should leave it on Obtain Automatically.
Step Three. Check (and repair if necessary) the Socket Layers, Winsock, and or refresh the TCP/IP Stack.
http://www.ezlan.net/clean.html#refreshnet

Step Four. Once the connection is restored. Optimize the TCP/IP stack to get the Best of your connection.
http://www.ezlan.net/Internet_Speed.html
---
These pages can help in case of a computer trashed by Internet Infestation.
Internet Infestation - How to protect and clean your Internet connected Computer/Network.
Basic Steps in cleaning Internet "Junk"
Freeware Security suite for Internet Connection Protection
---

Copyright © 2001-2008 EZLAN.NET. All Rights Reserved.
Home